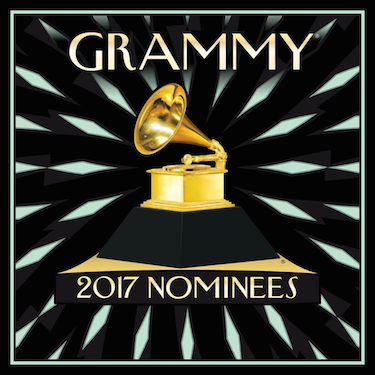 Metric Halo is proud to congratulate more than 50 of our customers who have been nominated for a 2017 Grammy® Award!
Tune in for Music's Biggest Night®, and watch The GRAMMYs February 12, 2017 on @CBS (8:00 pm ET / 5:00 pm PT)!
https://www.grammy.com
Nominated Metric Halo customers include artists, conductors, Engineers, Mastering Engineers, Mix Engineers, Producers and Songwriters, encompassing 40 different projects in 17 award categories, including Record of the Year, Album of the Year, Best Engineered Album - Non-Classical and Producer of the Year. Genres vary from Dance, R&B, Rap, Country, Contemporary Christian, Musical Theatre, Visual Media, Instrumental, Historical and Chamber/Small Ensemble.
These MH customer nominees worked with a wide variety of artists, such as Adele, Bonnie Rait, Lukas Graham, Andrew Bird, David Bowie, Prince, Drake, Kanye West, Rihanna, Beyoncé, P!nk, Kinky Boots - The Original West End Cast, Hillary Scott & The Scott Family, For King & Country, Justin Bieber, Spektral Quartet, Drake, Waitress - The Original Broadway Cast, and more!
Please join us as we congratulate all of the 59th Annual Grammy Award Nominees, including the Metric Halo Customers* who worked on the following projects:
CATEGORY: RECORD OF THE YEAR
7 Years (Track from Lukas Graham)
Artist(s): Lukas Graham
David LaBrel, Engineer/Mixer
Formation (Track from Lemonade)
Artist(s): Beyoncé
Jaycen Joshua, Engineer/Mixer
Stuart White, Engineer/Mixer
Stressed Out (Track from Blurryface)
Artist(s): Twenty One Pilots
Adam Hawkins, Engineer/Mixer
Neal Avron, Engineer/Mixer
Work
Artist(s): Rihanna, featuring Drake
Manny Marroquin, Engineer/Mixer
Noah "40" Shebib, Engineer/Mixer
CATEGORY: ALBUM OF THE YEAR
Winner: 25
Artist(s): Adele
Ariel Rechtshaid, Engineer/Mixer
Cameron Craig, Engineer/Mixer
Charles Moniz, Engineer/Mixer
Danger Mouse, Producer
Michael Ibert, Engineer/Mixer
Serban Ghenea, Engineer/Mixer
A Sailor's Guide To Earth
Artist(s): Sturgill Simpson
Gavin Lurssen, Mastering Engineer
Sean Sullivan, Engineer/Mixer
Lemonade
Artist(s): Beyoncé
Jaycen Joshua, Engineer/Mixer
Mike Dean, Engineer/Mixer
Stuart White, Engineer/Mixer
Tony Maserati, Engineer/Mixer
Vance Powell, Engineer/Mixer
Purpose
Artist(s): Justin Bieber
Andrew Wuepper, Engineer/Mixer
Benny Blanco, Producer
Chris Sclafani, Engineer/Mixer
Jaycen Joshua, Engineer/Mixer
Josh Gudwin, Engineer/Mixer
Manny Marroquin, Engineer/Mixer
Mark "Exit" Goodchild, Engineer/Mixer
Mike Dean, Producer
Views
Artist(s): Drake
Chris Athens, Mastering Engineer
David "Prep" Bijan Huges, Engineer/Mixer
Dwayne "Supa Dups" Chin-Quee, Producer
Noah "40" Shebib, Producer
Noel Cadastre, Engineer/Mixer
CATEGORY: BEST DANCE RECORDING
Never Be Like You
Artist(s): Flume, featuring Kai
Eric J. Dubowsky, Mixer
Tearing Me Up (Track From Days Gone By)
Artist(s): Bob Moses
Mark "Spike" Stent, Mixer
CATEGORY: BEST DANCE/ELECTRONIC ALBUM
Winner: Skin
Artist(s): Flume
Eric J. Dubowsky, Mixer (on Never Be Like You)
CATEGORY: BEST R&B SONG
Come And See Me (Track From PartyNextDoor 3 (P3))
Artist(s): PartyNextDoor, featuring Drake
Noah Shebib, Songwriter
Kiss It Better (Track from Anti)
Artist(s): Rihanna
Jeff Bhasker, Songwriter
CATEGORY: BEST R&B ALBUM
Velvet Portraits
Artist(s): Terrace Martin
Rick Carson, Recording & Mastering Engineer
CATEGORY: BEST RAP SONG
Famous
Artist(s): Kanye West, featuring Rihanna
Mike Dean, Songwriter
Noah Goldstein, Songwriter
Ultralight Beam (Track From The Life of Pablo)
Artist(s): Kanye West, featuring Chance The Rapper, Kelly Price, Kirk Franklin & The-Dream
Mike Dean, Songwriter
Noah Goldstein, Songwriter
CATEGORY: BEST COUNTRY DUO/GROUP PERFORMANCE
Think of You (Track from I'm Comin' Over)
Artist(s): Chris Young with Cassadee Pope
Billy Decker, Mix Engineer
CATEGORY: BEST COUNTRY SONG
Die A Happy Man (Track from Tangled Up)
Artist(s): Thomas Rhett
Joe Spargur, Songwriter
CATEGORY: BEST CONTEMPORARY CHRISTIAN MUSIC PERFORMANCE/SONG
Winner: Thy Will (Track From Love Remains)
Artist(s): Hillary Scott & The Scott Family
Bob Boyd/Ambient Digital, Mastering Engineer
Priceless (Track From Run Wild. Live Free. Love Strong. [The Anniversary Edition])
Artist(s): For King & Country
Seth Mosley, Songwriter
CATEGORY: BEST MUSICAL THEATER ALBUM
Waitress
Artist(s): Original Broadway Cast, with Jessie Mueller (Principal Soloist)
Neal Avron, Producer
Kinky Boots
Artist(s): Original West End Cast, with Killian Donnelly & Matt Henry (Principal Soloists)
William Wittman, Producer
CATEGORY: BEST SONG WRITTEN FOR VISUAL MEDIA
Just Like Fire (Track From Alice Through The Looking Glass)
Artist(s): P!nk
Oscar Holter, Songwriter
CATEGORY: BEST INSTRUMENTAL COMPOSITION
The Expensive Train Set: An Epic Sarahnade For Double Big Band (Track From The Expensive Train Set)
Artist(s): Tim Davies Big Band
Origin Records, Label
CATEGORY: BEST HISTORICAL ALBUM
Music Of Morocco From The Library Of Congress: Recorded By Paul Bowles, 1959
Artist(s): Various Artists
Rick Fisher, Mastering Engineer
Ork Records: New York, New York
Artist(s): Various Artists
Jeff Lipton, Mastering Engineer
Waxing The Gospel: Mass Evangelism & The Phonograph, 1890-1900
Artist(s): Various Artists
Michael Devecka, Mastering Engineer
CATEGORY: BEST ENGINEERED ALBUM, NON-CLASSICAL
Are You Serious
Artist(s): Andrew Bird
Andrew Bird, Artist
Bob Ludwig, Mastering Engineer
Tchad Blake, Engineer
Winner: Blackstar
Artist(s): David Bowie
Tony Visconti, Engineer
Dig In Deep
Artist(s): Bonnie Raitt
Kim Rosen, Mastering Engineer
Hit N Run Phase Two
Artist(s): Prince
Chris James, Engineer
Dylan Dresdow, Engineer & Mastering Engineer
CATEGORY: PRODUCER OF THE YEAR, NON-CLASSICAL
Benny Blanco, Producer
Projects (Artists):
Cold Water (Major Lazer Featuring Justin Bieber And MØ) (S)
Friends (Francis And The Lights Featuring Bon Iver) (S)
Kill Em' With Kindness (Selena Gomez) (T)
Love Yourself (Justin Bieber) (S)
Luv (Tory Lanez) (S)
Wild Love (Cashmere Cat Featuring The Weeknd & Francis And The Lights) (S)
CATEGORY: BEST CHAMBER MUSIC/SMALL ENSEMBLE PERFORMANCE
Serious Business
Artist(s): Spektral Quartet
Sono Luminus, Label
CATEGORY: BEST CLASSICAL INSTRUMENTAL SOLO
Adams, J.: Scheherazade.2
Artist(s): Chester Englander; St. Louis Symphony with Leila Josefowicz (Soloist/Violin)
Chester Englander, Artist
David Robertson, Conductor
*Please note, we made every effort to ensure this list is complete. However, if we omitted your name or project please let us know.
MH Customer Grammy® Award News Update: This e-mail address is being protected from spambots. You need JavaScript enabled to view it .
At home in any situation, Metric Halo's legendary powerful and versatile product line is used for a wide range of applications from live sound reinforcement, CD/DVD mixing and mastering, film and broadcast production to forensic science, airline safety investigation, medical research, and designing the next generation Ferrari and BMW automobiles.
https://www.mhlabs.com
---
Article Updated February 16, 2017