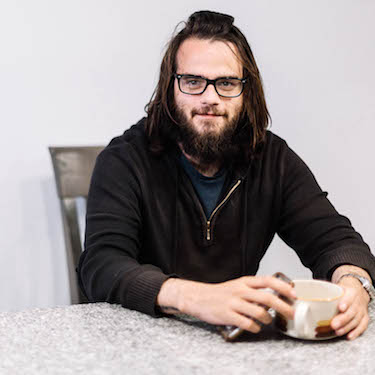 (PHOTO CREDIT: ©2017 Dan Thompson)
"ChannelStrip is my default EQ. It's always right there, and it's the first thing I think of... I can't live without it."
- Rick Carson, Mix Engineer, Record Producer
Make Believe Studios
OMAHA, NEBRASKA: "I have a goal: I want to help create a body of work in my lifetime, and I want at least one song to last in the public consciousness for 100 years!" So, says Rick Carson, engineer and visionary who got into recording at 14, realized it was his life's passion, and graduated from Full Sail as the school's youngest graduate. He was just 17 years old! After paying his dues in post-production and recording facilities in both Prague and Chicago, Carson did some disciplined market research and determined that the population of one million in greater Omaha, Nebraska had an abundance of bands and a dearth of studios to record them. Six years ago, he opened Make Believe Studios there. He has since poured "every cent, every second, every ounce of effort" in pursuit of his life's dream and ultimate goal. In that time, he has engineered Grammy-nominated projects and has a client list that includes Robert Searight, Terrace Martin, Problem, Danny Warsnop, and The Ready Set, among many others.
Today, Carson calls Omaha "Homeaha" and pilots an SSL console at Make Believe Studios that he has learned backward and forward. In fact, it is that console and the Metric Halo ChannelStrip plug-in for which he feels comfortable claiming "expert" status. "Every day, there are more plug-ins, and one thing I think that's super important – and that messes up a lot of kids these days – is really knowing your tools. Back in the day, engineers only had hardware, and they had to really learn to do everything on that hardware. They learned to use those same tools in a million different ways. These days, kids float from plug-in to plug-in and never really master any of them. There are two tools that I'm an absolute expert in: my SSL console and Metric Halo ChannelStrip."
He continued, "ChannelStrip is my default EQ. It's always right there, and it's the first thing I think of. Literally every vocal and every master bus I've ever mixed used ChannelStrip, and I've been using it since I was a student at Full Sail. It's super intuitive and has a great, modern sound. I can't live without it. There's nothing in the world like 1.5kHz, 4kHz, and 10kHz on the ChannelStrip EQ; it makes things pop out of the speakers. And it's super flexible; the 100:1 ratio on the compressor is crazy and yet totally musical. Nothing else sounds like that. And I can use the side-chain with a fast compressor on warm to give me the best de-esser out there. Over time, I have built up processes in ChannelStrip so that when I hear an issue, I know exactly how to fix it."
Carson's early days after school included a lot of ups and a few downs (including being slapped in the face with pizza by a nightmare senior engineer, true story). After squeaking by as a freelance engineer in Chicago, he analyzed the reasons why the Chicago market was so tough (no money, no transportation, too many studios) and looked for some place that had the opposite. While he did the research, he stayed with his uncle in Steamboat Springs, Colorado for six months, worked four jobs (radio station set up, apartment management, and two live sound gigs) from dawn till well after dusk, and saved every penny.
"I figured out that Omaha was the place to be," he said. "I could 'big-fish-little-pond' it. Omaha has the second lowest unemployment rate in the country, super affordable cost of living, and more retired millionaires than anywhere else. That's a lot of disposable income that you won't find in Chicago or Detroit, and that's conducive to making records! Most importantly, Omaha has a vibrant music scene that's really been underserved." Carson moved to Omaha sight unseen, with no local friends and no local connections to speed the process. If it's not already clear, Carson is a very hard worker, and after a few years recording in town, he purchased a studio, overhauled it, and opened Make Believe Studios. He was just 22.
Since Carson first started using it, ChannelStrip has undergone revisions, and he's happy that it just keeps getting better. "I used to put an L1 limiter on every channel, just to punch things up a bit," he said. "It was as if the folks at Metric Halo were looking into my sessions and saying, 'Hey Rick, we see you've been putting L1 on all of your channels… how about if we just build that feature into ChannelStrip for you?' Now I can put the limiter on, turn it a bit counterclockwise, and boom: the instrument steps forward, like it's walking in the front door of your house. I love it."
---
As seen in ProSoundWeb and MIX Online.
Article Updated November 6, 2017