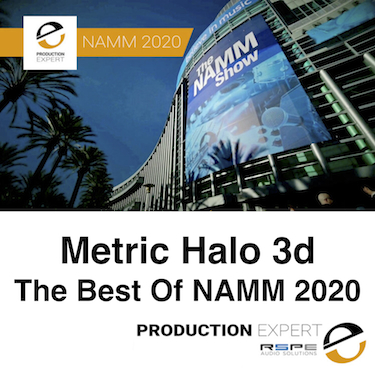 ANAHEIM, CA (USA) – January 19, 2020: Metric Halo 3d technology was named among "The Best Of NAMM 2020 - Day 3" by Production Expert!
Contact Metric Halo or your local Metric Halo Authorized Dealer or Distributor to learn more about Metric Halo 3d.
Visit Production Expert for the complete article:
https://www.pro-tools-expert.com/production-expert-1/2020/1/19/the-best-of-namm-2020-from-the-production-expert-team-day-3
About Production Expert
https://www.pro-tools-expert.com

In just 9 years the Production Expert blogs have become some of the most visited music and post production websites on the web. It began with Pro Tools Expert nearly a decade ago, which has become the number one independent Pro Tools user site in the world. All the Expert sites are unique in offering tips, tricks, online video tutorials and news in one single source. Our fans range from beginners right through to Grammy winning producers.
A Team Of Experts
The Production Expert team are first and foremost professionals working daily in music and post-production. Our content is informed by a team who are practitioners, meaning our tutorials are devised to help those working in real-world scenarios.
Product evaluation also benefits from this experience ensuring that when products are tested, they meet the needs of those working in studios every day.