More than 20 analog circuit models for less than $130*
*$129, or part of the $449

Production Bundle



Software requirements:
• AAX: Pro Tools 10 or 11 for Mac/Win
• AU: Any Mac AU host (32 & 64 bit)
• iLok key and account (AAX and AU)
Click image to enlarge
When we released the 2d card  and MIO Console v.5  for our interfaces, we introduced a new feature called Character. To create Character we asked our beta testers to send us their favorite analog processing devices; the mic pres, DIs and EQs that they used for recording, mixing and mastering. We then used SpectraFoo  to measure the ways that these processors changed the sound run through them, in particular the way the analog circuits add distortion. We then modeled this distortion using our +DSP technology.

We've now unleashed this technology as the Character plug-in for AAX and AU. Character provides over 20 different models, incorporating the sound of tubes, transformers and solid state devices. Character also adds a Drive control to allow you to push the distortion even harder for over-the-top sound mangling.
Please note: these examples were produced with a prerelease version of Character
and the knob style has changed.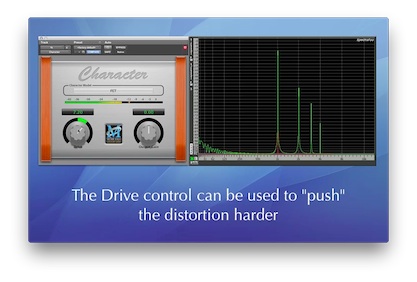 A Visual Demonstration of Character Processing
There is no audio in this example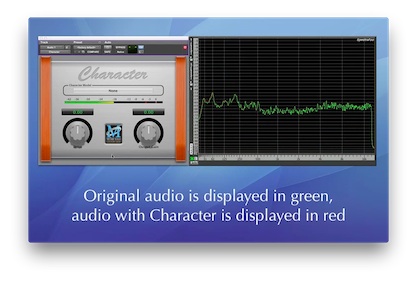 The audio in this example is best appreciated on headphones or studio monitors
Please note that this changelog incorporates changes for all Production Bundle plug-ins across all supported formats.
1.0.5:
Fix alignment issue with some UI elements in ChannelStrip
[AU] Fix issue in some hosts where parameter updates may be lost
Fix for potential crash on deinstantiation in Multiband Plugins
[AU] Fix for crash in some hosts (specifically FCPX) due to initialization on a thread
[AU] Fix meter reset for MultibandCompressor
[AU] Fix meter reset for MultibandExpander
[AU] Fix potential crash in HaloVerb
[AU] Fix meter reset for Character
Fix meter allocation for MultibandExpander
Fix analysis buffer allocation for MultibandExpander
Fix analysis buffer allocation for MultibandCompressor
Fix analysis buffer allocation for De-Esser
[AAX] Add support for PT11 and 64-bit build
[AAX-Win] Implement full optimization for host code (decreases CPU usage)
[AAX-Win] Implement 64-bit Installers
Sign Binaries for PT 10.3.x / PT 11
Fix auto-suffixing of parameter readouts to deal with negative numbers
[TransientControl] Fix (extend) range of the sustain parameter
Fix locking for threaded plotter of crossover functions to avoid potential race condition and crash
[Mac] Fix problem with signing 32-bit binaries (led to corrupted PT 10.3.x plugins)
Fix Gain Reduction meters for PT reported meters (so that PT11 and control surfaces render them properly)
1.0.4:
Fixed potential problem with licensing code when plugin scanner opens and closes plugin very quickly
Moved drawing of HaloVerb impulse response onto background thread for responsiveness
Moved drawing of Multiband dynamic EQ response onto background thread for responsiveness
Added caching for background image of plugin window to reduce CPU used for drawing static image
Fixed incorrect interpretation of wet/dry parameter when computing HaloVerb impulse response display
Optimized computing HaloVerb impulse response display
Optimized redraw of EQ response curve
Fixed problem with incorrectly showing that preset was changed (when it wasn't) via Compare button
Deferred redraw of UI until host sends parameter changed message -- fixes PT UI pauses when changing certain parameters
Fixed problem with parameter notification that caused recording of automation for ChannelStrip to not function
Added work-around to fix problems with multi-parameter touch automation recording in Logic (works-around Logic bug)
1.0.3:
Soft Interpolation of band Bypass in ChannelStrip EQ
Fix slight transparency on some controls
Fixed problem with tool-tip tracking
Fixed problem with phantom mouse clicks after dragging beyond UI boundary
Fixed problem with silent output from CS2/CS3 on some hosts with disconnected sidechain input
Fixed problem with compressor gain state on instantiation
ChannelStrip: removed recall of Bypass from preset state (to match standard PT behavior)
Add support for Mac OS 10.5
Add support to cancel text entry with ⌘. (Command + .) [Control. (Control + .) on Win]
Fixed interpolation to support bit-clean bypass
Fixed noise problem with LF high-pass filters
Fix problem with tooltips appearing even if window is covered by another window or is hidden
Added a preference to control auto-enable of bands to the Transfer Function popup menu in ChannelStrip 3

Fixed interpolation in ChannelStrip:

Stereo EQ bands
Compressor/Limiter threshold
Stereo Gate

Fixed interpolation in Multiband Dynamics:

Compressor/Limiter threshold

Knee control in ChannelStrip 3 is hidden when not in "MIO" character mode
Added version number reporting and update notification
Initial release for Windows AAX
Initial release for Macintosh AU
Initial release of ChannelStrip 3 for GarageBand
1.0.2:
Fixed issue with grunge when DSP is filled with MH Precision De-esser
Further optimized CS3, Precision De-esser, and MH MultibandDynamics, leading to an increase in instance counts
Fixed bit-cleanliness on bypassed CS3 blocks -- so now CS3 with phase invert nulls with unprocessed audio
1.0.1:
Substantial optimization of the processing code, especially for HDX
Accurate Cycle Counts for HDX
Enhanced control surface page table layouts
Fix for some corner case bugs that apparently can cause a DSP crash on heavily loaded systems
Additional interpolation of various parameters in the plugins to provide glitch free parameter changes
Fixed a conflict between CoreGraphics and DAE that can lead to DAE errors (DSP + Native), CPU Spiking or CPU overloads (Native)
Fixed a filter stability issue for high session sample rates
Fixed an issue where the average trace in the analyzer view can get stuck
Reduce the size on disk and in memory of the plugins
Fixed some missing control surface metering support and clip detection
Fixed some small graphic anomalies
Fix for detector for classic compressor in CS3 when Side-Chain filter is enabled
Signed installer for Mountain Lion compatibility
1.0: Initial release for Macintosh AAX