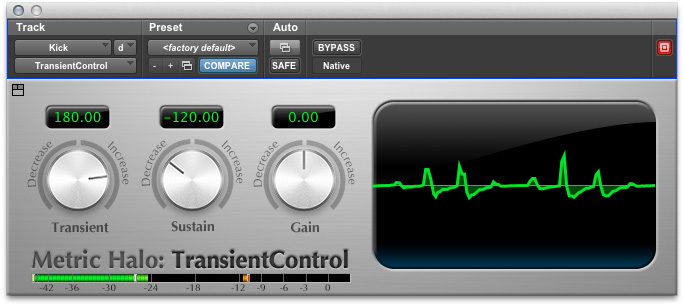 *$199, or part of the $699 

Production Bundle



Software requirements:
• AAX: Pro Tools 10 for Mac/Win
• AU: Any Mac AU host (32 & 64 bit)
• iLok key and account (AAX and AU)
TransientControl is a plug-in that allows you to modify dynamics in ways that aren't possible with traditional compressors. You can directly change the transient ("attack") and sustain of your audio; this allows you to make your tracks more punchy, or smooth them out so they sit in a mix.

TransientControl features a UI with 3 views:
| | |
| --- | --- |
| Basic: Provides access to the Transient, Sustain and Gain controls as well as the input meter. | |
| Basic w/Process Meter: As above, with the addition of a meter that allows you to see the activity of the plug-in. | |
| Advanced w/Process Meter: This view adds access to the advanced controls of the transient and sustain detectors. | |
Below are examples of Transient Control processing in action. Each track is presented dry and wet for comparison. The examples are:
Bass: Upright bass made more percussive.
Drums: The snare is brought out and the hi hat is reduced.
Funky: Electric guitar made to punch through a mix.
Acoustic: Acoustic guitar with the attacks smoothed out.