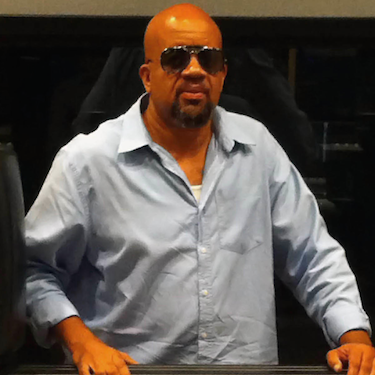 It's been a busy year for Grammy Award-winning mix engineer and avid blogger Gary Noble. His two highest-profile projects each earned a Grammy nomination for Best Urban Contemporary Album. The first nominated work is Mack Wilds' New York: A Love Story, which was released earlier this year on Louder Than Life/Sony Music. Producer and frequent collaborator Salaam Remi brought that project to Noble for mixing, and he also asked Noble to mix three of the tracks on his own work, ONE: In the Chamber, which was released on Flying Buddha/Masterworks and also earned a Grammy nomination. For the latter work, Noble mixed Remi's collaborations with Ne-Yo, Corinne Bailey Rae, and Stephen Marley. As always, Noble relied on his Metric Halo 2882 interface for monitoring and 80-bit summing; the Metric Halo Production Bundle plug-ins for flexible, great-sounding processing; and Metric Halo SpectraFoo sound analysis software to ensure the technical perfection of his work.
For both projects, Noble mixed at either 88.2kHz or 96kHz, depending on the recording rate. In a few cases, the original material was recorded at 44.1kHz or 48kHz, and Noble up-sampled the files to the higher rates for consistency. "I've been using my Metric Halo 2882 on a daily basis for a decade, and it has worked flawlessly," Noble said. "Metric Halo has been great about keeping it up to date; working at higher sampling rates is never a problem. The only problem I ever experienced wasn't the unit's fault… a bus-powered FireWire drive had a bad port and damaged the 2882. I shipped it to Metric Halo and had it back in fine order a few days later with a 2D upgrade." Although he admits it is a bit of a cliché, Noble states that his 2882 is like a Swiss Army Knife. He can use it for all things audio wherever he goes, including hotel rooms. Several of the tracks on New York: A Love Story and ONE: In the Chamber progressed in hotel rooms with the help of the 2882 and a pair of good headphones.
The Metric Halo Production Bundle of plug-ins played a prominent role in Noble's Grammy-nominated mixes. The most creative use was perhaps to help Mack Wilds' vocals pop against the backdrop of a luscious recording of a full orchestra. "The Multiband Dynamics plug-in is great for sounds that take up a lot of space," Noble said. "The orchestra tracks were huge and beautiful, and I didn't want to sacrifice that. But at the same time, Mack's vocals had to figure prominently in the mix. I used Multiband Dynamics to carve out a space from the orchestra to make room for Mack." Noble also used HaloVerb to liven up tracks that needed it and Character to impart an organic, analog feel to tracks that sounded too digital by themselves. Of course, Noble's longtime favorite plug-in, Metric Halo's ChannelStrip, played a prominent role as well, providing analog-sounding equalization and flexible dynamics processing on almost every channel.
Metric Halo SpectraFoo is an indispensible part of Noble's workflow, and these two Grammy-nominated albums are no exception. "I always run SpectraFoo in the background when I mix," he said. "And I always check it to see that what I'm hearing is accurate, and it's especially useful in unfamiliar rooms. It's not uncommon to have the low end sound okay in the room, but SpectraFoo shows me that it's too much or too little. It's a good reference that's free from the variables that can affect sound in a particular room."