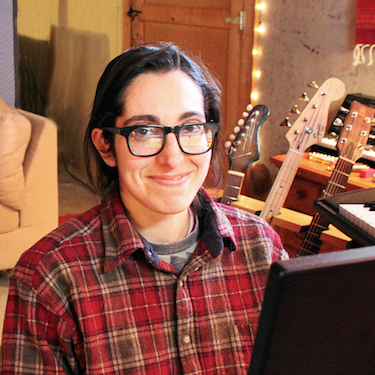 SAFETY HARBOR, FLORIDA – MARCH 2017: Michelle Chamuel is perhaps best known as the charismatic runner-up on season four of NBC's The Voice, where her amazing performance of Taylor Swift's "I Knew You Were Trouble," earned high praise from Swift herself and chart position on the Billboard Hot 100! But Chamuel's obvious talent for captivating audiences with her singing voice and relatable personality is really just one talent among many. She is a capable multi-instrumentalist, an impassioned songwriter, and a uniquely creative producer. Her production alias, The Reverb Junkie is an obvious tech-head nod to her love of manipulated sound. Since her early involvement in the band Ella Riot and her appearances on The Voice, Chamuel has released three pop-focused albums/EPs under her own name, Face the Fire, The Drift, and Feel It, and three experimentally-focused albums/EPs under The Reverb Junkie moniker, All I Want, EP 2, and I Am. Throughout, she has relied on her Metric Halo 2882 converter and Metric Halo ChannelStrip plug-in to faithfully capture and create her expansive universe of sounds.
About her most recent endeavors, Chamuel said, "This past year has been full of twists and turns of all kinds! I've been digging into my role as an artist and feeling more that my job is to explore and dig and dig some more, and then come back with new sounds to keep listeners company, to motivate them, and to serve as a new lens for experiencing the world through. In further advancement of this artistic journey, I've been playing and recording all the instruments and mixing my own tracks. I'm mainly using drum kit, bass, guitar, an array of old synthesizers, acoustic piano, percussion, harmonizer, and my vocals. All of these sounds run through my Metric Halo 2882."
She continued, "I record many different kinds of sources and many tracks that layer on top of each other, so I need a fairly un-colored tone from my AD/DA. I also want an AD/DA converter that doesn't sound too harsh or digital. For my needs and the budget I have, I'm extremely happy with the Metric Halo 2882 sound, and I'm impressed by how it's held up through all kinds of updates and studio reconfigurations."
Chamuel is currently working on a two-part full-length album to be released under her own name called Insights & Turnpikes and an instrumental ambient album to be released under The Reverb Junkie moniker called Pretty Bloops and Bleeps with Guitar. She's also working on mixing the radio edit of "Know Your Name" by Mary Lambert and an electronic remix of the same song that will appear on Lambert's upcoming EP (April 2017). She's using the Metric Halo ChannelStrip plug-in throughout all this production work. "ChannelStrip has a unique sound and is very versatile," Chamuel said. "Particularly when I want an aggressive sounding EQ to help a part cut through the mix without sounding harsh or affected. I often use it on snares to get the 'crack' sound to cut through the mix, as well as on certain vocals, to get the airy high-end frequencies to come out in a nice way." She asserted that Metric Halo ChannelStrip instances can be found in pretty much all of her mixes.
"Along with my computer, the Metric Halo 2882 is at the center of my recording setup," Chamuel said. "It has gracefully accommodated the many curveballs I've thrown at it. For example, I recently ran the snare mics on one track through a Moog distortion pedal, then into a tape machine, and then through an old noisy Shure RCA mic-pre. I had several spots in the signal chain running back through the 2882 to get as many different sound options as I could and to hear what each part of the chain was really doing. I had to use many different types of inputs, but the 2882 made it quick and easy to connect and work with."
Chamuel also noted that her Metric Halo 2882 has been very reliable, which keeps her making music instead of troubleshooting! "I do not like it when gear malfunctions!" she laughed. "And any time I run into any issues (which are few and far between), I can call real human beings at Metric Halo directly! That is really important to me: to be able to speak with a knowledgeable person who stands behind the product and is invested in quickly finding a solution."
---
As seen in ETNow.com.