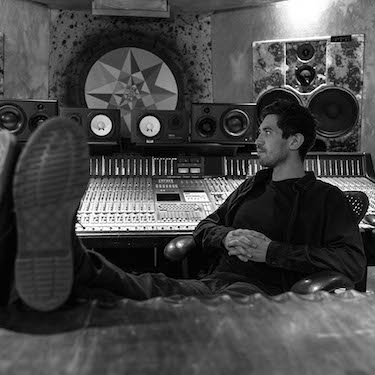 LONDON, ENGLAND: Headquartered in London, Matt Barnes is a sought-after recording and mix engineer with a deep skill set and humility enough to keep expanding it. He engineered Krept & Konan's Revenge Is Sweet, which made it to the number five spot in the UK, as well as Rod Stewart's You're In My Heart: Rod Stewart with the Royal Philharmonic Orchestra, which made it to the number one spot. Other high points include Mahalia's "Simmer (Acoustic)," Chic's "Queen" (featuring Elton John and Emeli Sandé), and Sigala's "We Got Love" (featuring Ella Henderson). Barnes works extensively with producer/writer Rvchet (Emeli Sande, Krept & Konan, Dutchavelli, Noizy), an arrangement that has not only generated jobs, but also a fortuitous introduction to Metric Halo's series of Production Bundle plugins.
Barnes is currently working with Rvchet on Krept & Konan's follow-up to Revenge Is Sweet, about which he's only willing to offer a cryptic insight: "they've gone in on this one." He's also working with Mahalia on new material. "Mahalia has an amazing voice and an effortless approach to writing and recording," Barnes offered. "I feel so lucky that I get to witness some of the best songwriters create songs from start to finish. Watching them begin with simple chords, or a snippet of a melody, and sculpt it into a hit song. I'm really into the lyrics; how certain words fit melodies better, internal rhymes, story progression, or new perspectives in each section. I've just finished recording an EP with an amazing new R&B artist signed to Dirty Hit called Kasai. She's a sick writer and has great melodies. She's really creative and uses unconventional chords and notes, which I really love."
After formal schooling in engineering from the Academy of Contemporary Music in Guildford, Surrey, England, Barnes went on to entry-level work before landing a full-time assistant position at SARM Studios in Notting Hill. "SARM had an old-school approach of throwing you in at the deep end and learning under great engineers," he said. "After a while I began freelancing at other London studios – Strongroom, State of the Ark, RAK, Westpoint, and Bluebox. One day I got recommended to producer Rvchet, which led me to becoming Emeli Sandé's engineer for about a year. Rvchet and I got on great and have been working together ever since, which is how I became involved with Krept & Konan. Rvchet introduced me to Metric Halo while we were working on Revenge Is Sweet, and ever since then Metric Halo has been the basis of my whole vocal sound. I love that Metric Halo includes an AAX DSP version of each plugin at no extra cost. That makes it great for tracking on HDX systems because it frees up CPU for native plugins." These days, Barnes jumps between Strongroom, Westpoint, Bluebox, and SARM, which he says inspires him with different vibes and workflows.
Barnes uses Metric Halo's flagship ChannelStrip plugin on literally every single recording session. "It's great for pop and rap vocals, and it's now the basis of my vocal template," he said. "With ChannelStrip, you can compress heavily without it sounding oversaturated. The EQ is really clean and you can cut a lot of unwanted frequencies without sounding surgical or phasey. I like to use ChannelStrip to broadly cut the low mids in vocals. It has a great top end too. It gives the vocals a sheen. I'll switch the compressor pre- or post-EQ to see which sounds best."
In addition to the many projects that he both engineers and mixes, Barnes is frequently asked to play the exclusive role of mix engineer. "I love mixing and creating those little moments that enhance the song, making lots of small changes that are felt but not explicitly heard. I've just mixed a new single by Zach Said called "Dance" and the new single by Georgia Twinn called "Let It Happen." I used the Metric Halo Character plugin as the last stage on my vocal bus. I love turning up the drive until you can just feel it but it's not too obvious. Character is great for adding a little extra grit to vocals. I like how the output volume is compensated for. All you have to do is turn the drive until it sounds good. I particularly like flicking between transformer, softsat, and boutique tube. It's subtle but it works."
With so much time spent with inspiring musicians, Barnes is feeling drawn back to his roots. "I got into recording when I was a teenager through playing guitar with my friends," he said. "I was probably the most tech savvy out of all of us, so the recording side kind of defaulted to me, and it grew into an obsession about which I'm still learning. One second you think you've mastered an aspect of recording and the next second you'll realize you've barely scratched the surface. It can be frustrating but it's also humbling. I am always learning. The more I know, the more I realize how much more there is to know. Right now, I'm also getting into production, which is really exciting because a lot of it is new to me. And I'm also listening to lots of bedroom pop and lo-fi indie, which is inspiring me to pick up the guitar again and make my own music!"
Website https://mattbarnesmusic.com/
Instagram https://www.instagram.com/mattsgotit/
ABOUT METRIC HALO
Based on the Gulf Coast of Florida, Metric Halo provides the world with award-winning software and hardware recording, processing, metering and analysis solutions.
---
As seen in Daily Advent (News), ProSoundNews.com, & MixOnline.com.
Updated January 25, 2021