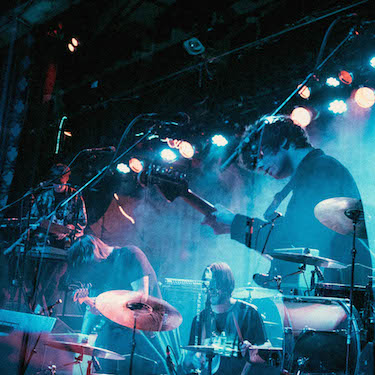 MONTRÉAL, CANADA: Seoul is a dream-pop three-piece operating out of Montréal, and their debut album, I Become A Shade, has quickly become a fan and critic-favorite. The band formed when longtime musical collaborators Nigel Ward and Julian Flavin started working with Dexter Garcia on an as-yet unnamed writing and recording project. Flavin had stayed in Montréal to study at McGill University, and Ward met Garcia at the Berklee College of Music in Boston. The trio recorded and wrote on weekend trips to Montréal, and each member recorded parts and ideas on their own in their home studio setups (installed into whatever apartments they happened to be living in at the time).
"Julian and I were never the kinds of musicians who would write a complete song and then go to the studio to record it," explained Ward. "To us, the recording process is an instrument and at that time, was an integral part of writing. When we started recording and writing with Dex, there was no firm plan what was to happen with the project… just the inspiration to keep working on it because it was coming together so well."
Recognizing that creative magic was in the works, Ward purchased a Metric Halo 2882 preamp/converter/interface to put the recordings into the "pro-quality realm" and to give them the track count they needed for their occasional larger recording endeavors. Garcia opted for the two high-end preamps of the Metric Halo ULN-2 preamp/converter/interface. The units' mobility would allow them to track wherever they were living or wherever they needed to go for a particular instrument or sound.
"The Metric Halo preamp and converter sound is excellent," said Ward. "I love the 2882 for louder stuff, like guitar amps and drums. Metric Halo's controller software, MIO Console, makes it easy to get the right headphone mix and provides great front-end DSP. I use that DSP to commit processing for decisions I'm 100% sure I'm going to make, such as high-pass filters and modest compression and limiting. That spares DSP resources for the mix. But beyond all that, I think it's cool to be using gear from a smaller company that's so dedicated to great-sounding audio. When I have a question about my Metric Halo gear, I call and speak to the same person every time. I don't get that kind of service with any other company."
All three members of the Seoul are adept at making apartments into passable recording and monitoring environments. "I've always had home studio setups," Ward said. "I have deadening materials, some decent monitors, my 2882, and some synths and other instruments. I do a lot of direct recording and then re-amp later. As far as the acoustics go, they're not perfect by any means, but we've learned to make the most of it. We basically try to kill the room as much as possible and then use processing in the mix to make everything sound cohesive. Metric Halo contributes by giving everything a unified sound."
Most of Seoul's drums are lifted from the band's collection of 1970s and 1980s vinyl, with live cymbals tracked over the loops and samples to give them a more human feel. "I use Metric Halo's TransientControl to adjust the envelope of drum samples," he said. "I can tighten things up or add more attack. I combine TransientControl with Metric Halo's [free] Thump plug-in, which adds one or two sub-harmonic oscillators with programmable envelopes. That's especially useful when we take older disco and funk drum sounds out of context, where they need a bigger bottom end to work with our material."
With the release of I Become A Shade on the Grand Jury label, Seoul found a ready audience in the musical hotbeds of Montréal and New York City and played a string of shows. From there, they spent the fall of 2015 crisscrossing North America not just once, but twice. They've made a conscious effort to avoid laptops on stage, preferring to play everything live, but Ward's 2882 is often brought along. "Since it's bus-powered, we can use the 2882 wherever we like to record or tweak new ideas," he said.
Contact Metric Halo or your local Metric Halo Authorized Reseller to learn more about Metric Halo preamps/converters/interfaces and MH's complete legendary product line.
---
As seen in ProSoundWeb.
Article Updated July 26, 2016