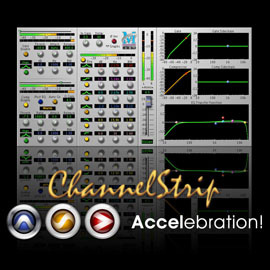 Hopewell Junction, NY: Metric Halo is pleased to announce that major updates for ChannelStrip TDM and ChannelStrip RTAS are now shipping. The 2.2 update is freely available to all registered OS X users of ChannelStrip and provides a large number of significant enhancements and bug fixes.
Metric Halo's ChannelStrip has been an integral part of the sound of myriad Grammy-award winning, Gold and Platinum records, hit TV shows and blockbuster movies. Originally developed in 1998, ChannelStrip was the first plug-in to bring classic large format console-style channel processing to Pro Tools. With the first 48-bit EQ on the platform, ChannelStrip has been the critical tool for getting "the sound" for thousands of professional recording engineers, producers, composers and musicians world-wide.
ChannelStrip 2.2 is a Universal Binary, and supports Pro Tools 6.4 – 7.3 on both PPC and Intel Macs. ChannelStrip 2.2 also provides complete support for HD|Accel DSPs and PCIe cards on all Mac platforms. In addition to extending ChannelStrip support to PCIe cards and HD|Accel DSPs, ChannelStrip continues to support Mix and HD systems.
New features include:
Support for plug-in clip-light and system wide clip indicator reset
Support for Accel chips and 192k on TDM Accel systems
Complete page table support for all supported control surfaces
Universal Binary support for TDM and RTAS
16/8/4 mono instances per Accel chip at 1x/2x/4x rates
Notable bug fixes include:
Fixed Gate bug at 96k on Mix and HD systems
Fixed lack of support of PCIe systems
Fixed DSP chip allocation bug
Fixed window resize bug
For more information about the ChannelStrip product, take a look at the ChannelStrip Product page.
According to B.J Buchalter, V.P. of R&D at Metric Halo, "The 2.2 release of ChannelStrip for Pro Tools systems is the best release we have had since the original introduction of the product. We know that ChannelStrip is the 'go-to' plug-in for a huge number of Pro Tools users and that the lack of support for many of Digidesign's newer technologies was getting folks down. We are happy to be able to say that ChannelStrip now supports all current Pro Tools technologies and is completely rock solid. With this release we are re-affirming our commitment to the Pro Tools community, and to our loyal customers."
"Back in the late 90's I wrote a review of ChannelStrip for Keyboard magazine and basically said its a 'must have DSP tool!'", says Mikail Graham of www.mikailinfo.com. Mikail continues, "Well now its 2007 and ChannelStrip since that time has stepped into the world of Apple "Audio Units" along with hot new Pro Tools HD and LE versions and more and I have to tell you its still one of my most valuable DSP tools as it covers the ground of four or five separate plug-ins and more, yet just as powerful in each department as much of the competition is in just one. If you are one of the few who haven't yet tried ChannelStrip I suggest you download it today and prepare to get happy!"
Additional User Quotes:

"I've been working with the 2.2 beta of ChannelStrip for two weeks on my HD3|Accel PCI Pro Tools system, and I've been trying hard to break it. I've used it on every chip type on all the cards and it has been rock solid for me. ChannelStrip has always been a great plugin, and now, with this update, I am really happy that Metric Halo has made ChannelStrip bulletproof on Pro Tools HD|Accel." – Morten Carlsen, AtonMusic, Engineer (PT 7.3 HD3|Accel)
"Thanks for the new version of ChannelStrip! The Beta came out at just the right time for my project, and it worked wonders for my drums! I've run 12 instances in just about every song with no performance issues whatsoever! ChannelStrip 2.2 is smooth and efficient and will be a staple of my drum sounds for a long time! Keep up the great work!" – Jamin Cousins, Recording Engineer and Independent Musician (PT 7.1.1)
"I deal with acoustic music recorded in one take, live without a net. My working conditions and rooms are typically far from optimal... When I get back to the studio to master and clean things up, I need a powerful channel strip for EQ and sound shaping that is as transparent as the other gear in my chain (not coincidentally, all Metric Halo) to help me achieve the best sound from my live capture. ChannelStrip is the only tool that fulfills these hefty requirements. I can't think of a live concert I've mastered that didn't have ChannelStrip in the chain; ChannelStrip is truly indispensable." – Marc Schonbrun, Location Recording, Mastering, Audio Education (PT 7.3)
"For the last four days I've been mixing using C.S 2.2 on every single track and in every possible ways that would suit the job I am finishing. No problems occurred. ChannelStrip 2.2 is rock solid as far as I'm concerned. I searched quite a few plugs to find one that would reveal the texture and tone of my tracks, and I found a few very great ones but I had to insert them in cascade. Then my dealer installed a demo of ChannelStrip on my system, and it has been on every track I cut since. Thanks to your great work [ChannelStrip], even the most intricate harmonies and texture can be revealed in a few minutes. ChannelStrip is my ultimate plugin." – Pascal Gravante, Song writer, Producer and musician (PT 7.3 Intel)