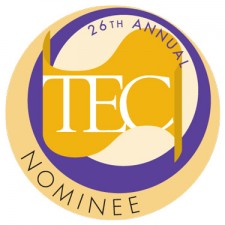 HOPEWELL JUNCTION, NEW YORK - OCTOBER 2010: Metric Halo is pleased to announce the that the LIO-8 Line Level Converter has been nominated for the Technical Excellence & Creativity Award in the category of Outstanding Technical Achievement, Digital Converter Technology.
The 26th Annual TEC Awards, presented by the TEC Foundation for Excellence in Audio, will be held on January 14, 2011 at the NAMM Show in Anaheim, California. The TEC Awards was established in 1985 to honor outstanding achievement in professional audio production and product innovation. The Nominations were made by a panel of approximately 100 audio industry veterans, in a variety of fields. Winners will be determined by members of professional audio and sound production organizations, through online voting conducted by an independent company. Voting will take place from November 1st through 30th.
The winners of the 26th Annual TEC Awards will be announced at a ceremony to be held Friday evening, January 14, at the Anaheim Hilton as a special highlight of NAMM, the leading international music products trade show. The ceremony will include the presentation of the Les Paul Award and the TEC Awards Hall of Fame Induction.