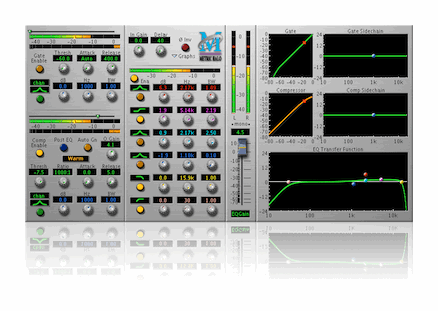 Metric Halo is celebrating the thirteenth anniversary of its ChannelStrip plug-in by offering a 50% discount on the GarageBand, Native, and TDM versions until June 20, 2011. ChannelStrip was the first console-style channelstrip plug-in of its kind, combining gate, compressor and EQ modules in one efficient package. It was also the first to offer double precision operation for the highest quality audio. With over 100 presets, ChannelStrip allows the user to quickly hone in on the sound they're looking for.
"We call ChannelStrip the 'Digital Classic'; a thirteen year old piece of software is antique by most people's standards. Yet everyone from home enthusiasts to top engineers use it on a daily basis for one simple reason- it sounds great!" said Allen Rowand of Metric Halo. "Most people don't think about code as an investment, but wouldn't you be happy about buying something that stands up against newer products after a decade?"
If you haven't experienced ChannelStrip, now is a perfect time to take the plunge and hear what you've been missing. This limited time offer is available through MH Direct as well as authorized dealers.