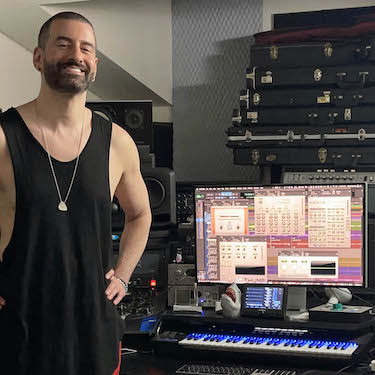 WEST HOLLYWOOD, CALIFORNIA: Mike Gonsolin has strong opinions about sound and the tools that he uses to craft sound. An LA-based producer and engineer, Gonsolin founded and heads Trend Def Studios in West Hollywood. Trend Def Studios is a one-stop-shop that covers every angle of the music industry, including songwriting, producing, tracking, editing, mixing, mastering, and marketing. His client list includes Famous Dex, Rich the Kid, Snoop Dogg, French Montana, The Migos, Flight Reacts, Sad Frosty, and countless others. In addition to working with major label talent, Gonsolin works with independent artists who want major label sound but who don't yet have access to the typical A-list producers, engineers, and studios. Like so many engineers, Gonsolin indulges his love of gear and plugins and he certainly has no shortage of tools at his disposal either inside or outside of the box. But when Gonsolin needs to make a transparent technical change that doesn't mess with the feel of a track, he always opts for Metric Halo plugins.
"Metric Halo plugins are so clean," he explained. "If I really want to preserve the sound I have going and not dirty it up, Metric Halo is the right choice."
ChannelStrip – Metric Halo's flagship plugin – is a common go-to for Gonsolin. It includes integrated gating, compression, limiting, and six bands of equalization (any band can be parametric, low-cut, high-cut, low-shelf, high-shelf, or band-pass). He uses it most often for vocals and finds that the sound is solid and the parameters are as responsive as hardware. Multiband Dynamics splits a signal into three bands with fully-adjustable crossovers and compression within each band. It's another favorite for Gonsolin, especially for drums.
"With a lot of other manufacturers, their digital s**t doesn't add up like it's supposed to and they end up massacring the sound," he continued. "I think a lot of the bigger companies are selling off the hype and not the sound. And too many people's ears aren't good enough to know the difference. In contrast, Metric Halo is the real deal, they're selling real sound."
Gonsolin also appreciates that Metric Halo keeps the functionality of its different plugins discrete – it's not just one plugin trying to do it all. In addition to ChannelStrip and Multiband Dynamics, the Metric Halo Production Bundle includes Character, TransientControl, Precision De-Esser, Multiband Expander, Dirty Delay, and HaloVerb. "Because Metric Halo keeps applications separate and because each plugin does its thing without mangling the sound, I can put in the specific Metric Halo plugin that I need," Gonsolin explained. "Character is a good one. I can add saturation when I need to and just the right amount. It can be subtle. With other saturation modelling plugins, it's like, 'Man, I didn't want it to do THAT!' Along the same line, TransientControl is definitely the most transparent transient plugin available. Others quickly color the sound, but Metric Halo's TransientControl keeps the sound intact."
Gonsolin finds another big perk of Metric Halo's deep understanding of the Mac OS is its ability to make plugins that are ready for anything Apple decides to do with new operating systems. "Any time there is a significant new Mac OS update, I'm deluged by emails from other manufactures telling me to wait on the update because their software isn't compatible. Metric Halo is always the first to be compatible – usually without any updates on their end whatsoever!"
---
ABOUT METRIC HALO Based on the Gulf Coast of Florida, Metric Halo provides the world with award-winning software and hardware recording, processing, metering and analysis solutions.