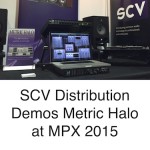 LONDON, ENGLAND (UK): Metric Halo's UK Distributor - SCV Distribution - to demo Metric Halo Products at the Music Production Expo Nov. 20th & 21st!
MPX 2015 | Emirates Stadium | North London | Nov. 20 & 21, 2015
Read more to learn how you can WIN TICKETS!
Read more...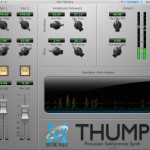 SAFETY HARBOR, FLORIDA: Metric Halo, industry leaders and innovators of world-class professional audio products, announces the release of MH Thump v. 2.0.2 for AAX, AU & VST.
The best part? Thump is FREE!
Read more...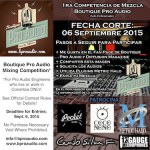 BOGOTA, COLOMBIA: Boutique Pro Audio - Metric Halo's Premier Dealer for Colombia - Proudly Announces its 1st MIXING COMPETITION!
When: Now through Sun., Sept. 6, 2015 at 11:59 PM
Who can participate: Pro Audio Engineers who Live or Work in Colombia (no purchase necessary)
Prizes: There are more than $3000 in prizes!
Please read the OFFICIAL CONTEST RULES for full details and instructions!
Read more...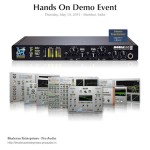 MUMBAI, INDIA: Metric Halo dealer Bhalerao Enterprises - Pro Audio is hosting a hands-on demo event, featuring the Metric Halo ULN-2 +DSP w/ 1 Jensen Transformer interface and the Metric Halo Production Bundle, on Thursday, May 14, 2015 in Mumbai, India!
Bhalerao Enterprises - Pro Audio
0251 2910642 , 022 6786 9191
This e-mail address is being protected from spambots. You need JavaScript enabled to view it
http://bhaleraoenterprises-proaudio.in
Read more...
SAFETY HARBOR, FLORIDA: Metric Halo, maker of high-end professional audio interfaces, plug-ins, and sound analysis software, has appointed Benjamin Pro Audio as its distributor in South Africa. Based in the South African capital of Pretoria, Benjamin Pro Audio specializes high-end equipment for studios, acoustic consultation, and acoustic design. It will handle Metric Halo's entire product line, from its flagship eight-channel ULN-8 preamp/converter to its Production Bundle of great sounding plug-ins… and everything in between.
"Benjamin Pro Audio's extensive knowledge of the gear they sell for use in the studio and on location, as well as their commitment to finding the right solutions for their customers, will serve Metric Halo well," said Stu Buchalter, Metric Halo's vice president of worldwide sales.
Read more...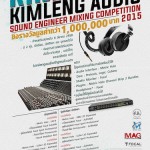 BANGPLEE, SAMUT PRAKARN, THAILAND: Metric Halo's distributor for Thailand, Kimleng Audio, is hosting KimMix 2015 - Sound Engineer Mixing Competition. The contest is going on NOW, and ends March 8th.
Who can participate? Students & Free Style Sound Engineers. *Must live or work in Thailand and complete Kimleng Audio's "How To Use Metric Halo Plugins & Hardware" training seminar to be eligible.
Read more...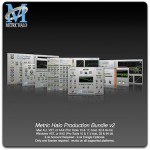 Metric Halo is pleased to announce the immediate availability of version 2 of its Production Bundle plug-ins. The new plug-ins provide a comprehensive set of tools offering Metric Halo's signature sound quality at a compelling price.
Read more...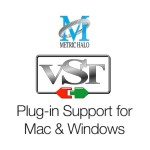 SAFETY HARBOR, FL: Metric Halo is pleased to announce the immediate availability VST based versions of all Metric Halo plug-ins. These plug-ins are supported on both Windows and Mac OS X. In addition to VST, the plug-ins also support Pro Tools AAX on Mac and Windows, and Audio Units on Mac. All of the plug-ins run in both 32-bit and 64-bit hosts on all platforms.
Read more...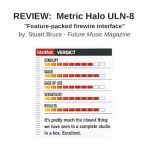 "For a 1U rack mount unit the ULN-8 is about as fully featured as you can imagine for an eight channel interface," according to Stuart Bruce of Future Music Magazine.
"The fact that it's FireWire also means that with all that functionality your laptop can be a fully functioning studio just with a ULN-8, a pair of monitors and some cans."
"...although it's not the cheapest interface on the market, when you consider what you are getting for your money, and especially with that recent price drop [now $2,999 GBP / $5,995 US Dollar - VAT included], it can only be considered a bargain."
CLICK HERE to read the full review by Stuart Bruce (Future Music Magazine), published by music radar.
Join the discussion on Facebook!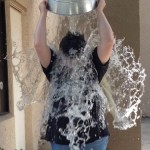 SAFETY HARBOR, FLORIDA (USA) Metric Halo's Sales Channel Relationship Specialist, Ali Buchalter, completed the ALS #icebucketchallenge in an effort to raise awareness of ALS and to raise funds for a cure and care for people impacted by this devastating disease. Check out Metric Halo's ALS Ice Bucket Challenge photo album on Facebook!
About ALS
Donate
ALS Association
Metric Halo nominates the following authorized resellers to do the same:
Read more...
«
Start
Prev
21
22
23
24
25
26
Next
End
»
Page 21 of 26