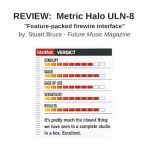 "For a 1U rack mount unit the ULN-8 is about as fully featured as you can imagine for an eight channel interface," according to Stuart Bruce of Future Music Magazine.
"The fact that it's FireWire also means that with all that functionality your laptop can be a fully functioning studio just with a ULN-8, a pair of monitors and some cans."
"...although it's not the cheapest interface on the market, when you consider what you are getting for your money, and especially with that recent price drop [now $2,999 GBP / $5,995 US Dollar - VAT included], it can only be considered a bargain."
CLICK HERE to read the full review by Stuart Bruce (Future Music Magazine), published by music radar.
Join the discussion on Facebook!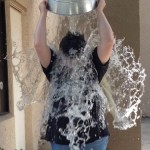 SAFETY HARBOR, FLORIDA (USA) Metric Halo's Sales Channel Relationship Specialist, Ali Buchalter, completed the ALS #icebucketchallenge in an effort to raise awareness of ALS and to raise funds for a cure and care for people impacted by this devastating disease. Check out Metric Halo's ALS Ice Bucket Challenge photo album on Facebook!
About ALS
Donate
ALS Association
Metric Halo nominates the following authorized resellers to do the same:
Read more...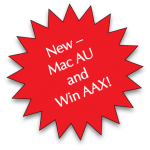 SEPTEMBER 22, 2012: Today at IMSTA Festa, Metric Halo announced the release of the Metric Halo Production Bundle for Pro Tools 10 for Windows, as well as Macintosh Audio Units. The software will be available 9/25/12 and consists of seven plug-ins compatible with AAX Native and AAX DSP Pro Tools systems and any Macintosh DAW that supports Audio Units: ChannelStrip 3, Character, HaloVerb, Multiband Dynamics, Multiband Expander, Precision DeEsser, and TransientControl.
Read more...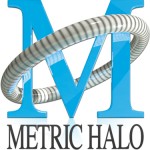 As of July 11, we updated the installers for our entire software line to be compatible with the requirements of Mac OS X 10.8. Unfortunately the new installers are only supported by the Installer application that Apple provides with Mac OS X 10.5 and newer.
Read more...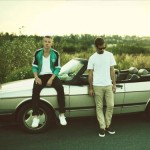 SEATTLE, WASHINGTON: The team of rapper Macklemore and producer Ryan Lewis is making some of the most forward-thinking hip-hop music on the planet. Lewis' irresistible beats and music form a sophisticated backdrop for Macklemore's tight rhymes and deceptively easy delivery.
Read more...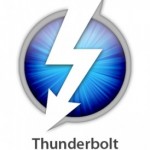 SAFETY HARBOR, FLORIDA – FEBRUARY 2012: Metric Halo is pleased to officially certify two Thunderbolt adapters for use with their line of FireWire based audio interfaces.
Read more...
JANUARY 2012: Metric Halo has completely revamped its website, bringing the crystalline clarity of modern design and functionality to its online presence.
Read more...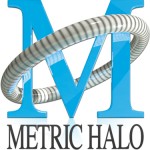 SAFETY HARBOR, FLORIDA – DECEMBER 2011: Without snow shovels and down jackets, Metric Halo is in the process of moving to the Tampa Bay area during the holiday break.
Read more...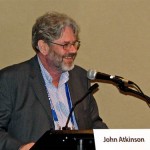 Long time Metric Halo user John Atkinson will be giving this year's Richard C. Heyser Memorial Lecture, using his ULN-2 to play back recordings made with his Metric Halo interfaces to illustrate points from his lecture. The full details, as printed by http://www.stereophile.com:
Read more...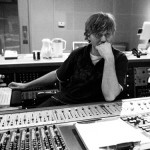 HOPEWELL JUNCTION, NEW YORK: Producer and engineer Jay Ruston has been recording and mixing tracks for artists such as The Donnas, Jars of Clay, Steel Panther, and Meatloaf for going on twenty years. He has watched the technology that is championed by the industry shift and evolve, sometimes for the better and sometimes for the worse. He hangs onto the better bits. For example, Ruston is an avid (ha!) user of Pro Tools, which he pairs with a Trident console for analog summing. Recently, while working with Anthrax on their forthcoming release, Worship Music, Ruston found Metric Halo's ChannelStrip plug-in, which combines the classic frequency and dynamics tools found on the monster analog consoles of yore. Together with Anthrax producer and guitarist Rob Caggiano, Ruston recorded and mixed the album.
Read more...
«
Start
Prev
21
22
23
24
25
26
Next
End
»
Page 22 of 26