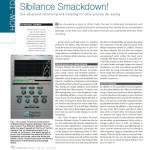 In this article, we'll take a look at a standout performer: the Metric Halo Precision DeEsser. Of all the many de-esser plug-ins I've used over the years, Precision DeEsser has, by far, the most comprehensive and effective facilities for zeroing in on sibilance while retaining a vocal track's presence and air.
- Michael Cooper
Electronic Musician Magazine
Feb. 2017 Edition
ONLINE NOW! Please click the link to read the full article: Electronic Musician Magazine Sibilance Smackdown!
Or, buy a copy of Electronic Musician Magazine (February 2017 Edition), on newsstands NOW.
Read more...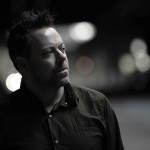 LOS ANGELES, CALIFORNIA – FEBRUARY 2017: Dropping his tone as one might in conversation with a co-conspirator, TV composer Jonathan Thomas Miller seemed to almost confess: "The speed of my delivery is crazy. I'm writing, recording, and mixing three to four pieces a day. I gotta crank it out!" But don't get the wrong idea; he wasn't complaining. Miller loves the challenge and constraints of his business, which he's been building for nearly two decades.
After happily spending "forever" in school in his native Ohio and Michigan, Miller took the musical plunge in 2000 and moved to Los Angeles to serve as an assistant to Tom Hiel, composer for ABC's The Practice, which gave him an inside view of the industry and plenty of practice (ha!) mixing. A sequence of happy accidents presented him with the opportunity to write the theme for Discovery Channel's Big!, which led to extended gigs on shows like Flip That House (89 episodes), Verminators (26 episodes), Oddities (42 episodes), Wild Justice (31 episodes), 1000 Ways to Die (76 episodes), and Jay Leno's Garage (16 episodes and counting), among many, many others. In total, Miller estimates that he has written 6,000-7,000 pieces!
Read more...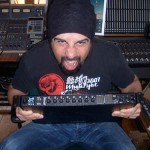 SAFETY HARBOR, FLORIDA – JANUARY 2017: Before 2013, Rob Caggiano was perhaps best known as the guitarist for American heavy metal behemoth Anthrax, a position he resigned in 2013 on good terms to follow his passion and broaden his horizon musically. Although it wasn't part of any kind of premeditated plan, Caggiano almost immediately joined the Danish heavy metal behemoth Volbeat and has remained with the band since, not only to shred their solos, but also to write solos and songs of his own with them. What's not so well known is that Caggiano won both positions as a producer and engineer and that he continues to bring great music into the world in that capacity with his trusty – and extremely portable – Metric Halo ULN-8 interface. "It's an entire studio in one rack space!" Caggiano said.
Read more...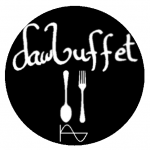 READING, MASSACHUSSETTS (USA) - December 10, 2016: DawBuffet is the music and audio software information site founded by Nick Batzdorf, former editor-in-chief of Recording magazine and then editor/publisher of Virtual Instruments magazine, and a self-described long-time Metric Halo fan and 2882 user. He and fellow audio enthusiasts created DawBuffet as a place "where you feed your DAW and discover new ways to get the absolute most out of it." DawBuffet offers "the best instruments and tools available, at the best prices, along with professionally-written articles."
Metric Halo welcomes DawBuffet to its growing global reseller network and is proud to announce the Production Bundle, ChannelStrip 3 and the complete arsenal of MH AAX / AU / VST plug-ins for Mac & Windows are available for purchase at dawbuffet.com! Check out the whole collection here: https://dawbuffet.com/collections/vendors?q=Metric%20Halo
Read more...
SAFETY HARBOR, FLORIDA: Vahagn Stepanyan is a talented music producer, arranger, composer, and keyboard player from Armenia who has fully embraced the promise of long-distance collaboration. He regularly collaborates with Turkish mixing engineer Alen Konakoglu. He and Vahagn completed projects with musicians from nearly fifteen different countries, including Eric Marienthal, Nathan East, Eric Moore, Anthony Crawford, Mark Lettieri, Adam Hawley, and Jack Thammarat. In addition, he handles the YouTube post-production for Chaka Khan's bassist Melvin Lee Davis and works with Grammy-winning mastering engineer, Evren Goknar and some others. Vahagn is also a Grammy Recording Academy voting member and recently signed on to score and arrange soundtracks for sixteen documentaries produced by Armenian Public Television.
Read more...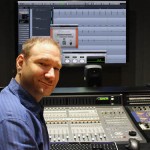 Bill Evans is an interesting guy. As of October 2016, he will have a PhD in music technology from Manchester Metropolitan University/Glasgow University for an innovative new model of music production called Belexes. Advancing beyond the digital audio workstations (DAWs) of today, Belexes is a virtual audio workstation (VAD) that uses a technology Evans developed called a Volumetric Haptic Display (VHD). As with a computer monitor that displays light, and a speaker that "displays" sound, the VHD projects 3D objects into space with enough force that you can rest your hand on them in mid-air. He uses this technology to create a customized user interface that users can touch and use in space. Remember the movie Minority Report with Tom Cruise? Imagine that instead of (supposedly) solving murders before they happened, Cruise was mixing the cutting edge in progressive rock/pop on those crazy floating computer interfaces… then you have an idea of what Evans is up to… and what you may be up to in the perhaps not-so-distant future!
Read more...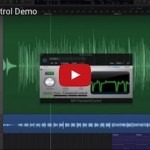 SAFETY HARBOR, FL (USA) - October 2016: In this video, Metric Halo's Jon Stern demonstrates how you can gain control over the dynamics of your mix in ways not possible with traditional compressors.
MH TransientControl distinguishes between the attack, sustain and release components of your sound, letting you control them individually. Add more snap and body to your percussive sounds, texturize your foundation tracks, and have more control over what stands out in your mix. A touch of Transient Control can add sizzle to a final mix The default UI is simple yet powerful, and can be used to shape your transients quickly. Expanded views provide a scalable readout and advanced controls to redefine the way that the attack and sustain elements are detected by the plug-in.
Click the link to watch the video:
VIDEO
Demo MH TransientControl for AAX, AU & VST (Mac/Win) FREE for 30 Days, as part of the Metric Halo Production Bundle:
MH Demo Central
Is MH TransientControl for you? CLICK HERE to learn more.
Tech Specs

System Requirements
Mac OS X 10.6.8 or newer. Intel Processor. AU, VST, or AAX (Pro Tools 10, 11 & 12 DSP & Native) host. 32 & 64 bit.

Windows 7 or newer. Intel Processor. VST or AAX (Pro Tools 10, 11 & 12 DSP & Native) host. 32 & 64 bit.

Licensing Requirements
iLok.com account.

iLok dongle is optional — you may install the license on iLok for portability.

Only one license required – works on all supported platforms.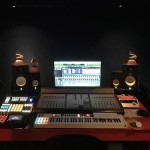 CORPUS CHRISTIE, TEXAS: It was 1983 when Cruz Martínez – then just 12 years old – first took up the keyboard to play in a family band in the suburbs of Chicago, Illinois. His natural talent and musical intuition inspired La Sombra de Chicago to ask him to produce their album Porque te Quiero four years later – when Martínez was just 16 years old! That album was nominated for an American Grammy Award, solidifying Martínez' standing in the industry and inspiring his move to Corpus Christi, Texas, where the label Freddie Records had a state-side studio. Soon after, Martínez started playing keyboards for the same Tejano band he was producing for La Sombra. From there, he founded and produced Los Kumbia Kings – arguably The Beatles of cumbia music, complete with a dramatic breakup – and more recently its descendent, Los Super Reyes. Across the decades, Martínez has amassed numerous platinum albums and Grammy nominations, along with five Grammy wins. He currently works out of personal studios in Corpus Christi and Monterrey, Mexico, while making plenty of time to produce, arrange, engineer and song write records for his wife – famous Latin singer Alicia Villarreal – and their children.
From the start, Martínez was fascinated by the technology used to create music and was a (very!) early adopter of the computer's role in the process.
Read more...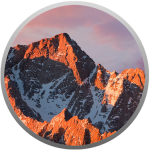 SAFETY HARBOR, FLORIDA (USA) - September 2016: Metric Halo announces their complete product line is ready for macOS 10.12 (Sierra), slated to launch on Tuesday, September 20, 2016.
Please visit http://www.apple.com/macos/sierra to learn more about macOS Sierra.
Please visit http://www.mhlabs.com to download the latest Metric Halo installers, compatible with macOS 10.12 (Sierra).
Read more...
«
Start
Prev
1
2
3
4
5
6
7
8
9
10
Next
End
»
Page 6 of 26