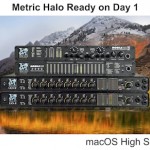 SAFETY HARBOR, FLORIDA – SEPTEMBER 25, 2017: BJ Buchalter, VP Research and Development, announces Metric Halo's macOS 10.13 High Sierra compatibility to the MIO Users Group. Please see BJ's e-mail below, for details:
Read more...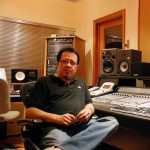 MIAMI, FLORIDA: With a career that now spans over four decades, Oscar D'León is a fearless bandleader and one of the greatest names in tropical music. Salsa fans worship him like a god, and everyone has heard his music (whether they know it or not!). Approximately a decade his junior, Rodolfo Castillo is a multiple Grammy Award-winning producer, engineer, songwriter, and publisher in the Latin music world who has ably navigated the fully-analog workflows of his early days to the fully-digital workflows of today. The two greats joined forces to record Fuzionando, which earned Castillo another Grammy Award for Best Engineered Album. Castillo delivered the analog soul expected for the album in a fully-digital production by using Metric Halo's venerable ChannelStrip plug-in.
Read more...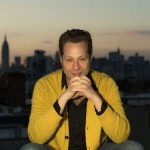 (PHOTO CREDIT: ©2017 David Creswell)
NEW YORK, NEW YORK: Marlan Barry is an accomplished audio engineer and producer who focuses on orchestral, chamber, operatic and acoustic recording. He trained with former Telarc trailblazers Jack Renner, Thomas Knab and Michael Bishop and went on to become a New York based freelance engineer and producer. For fifteen years he engineered and produced recordings for The Houston Grand Opera. He left New York briefly to become the chief engineer and producer for the Houston Symphony when Christoph Eschenbach was finishing his ten-year stint as the orchestra's music director. He also and served as head recording engineer for the local NPR affiliate, KUHF. After two years in Houston, he relocated back to New York City but kept the opera as one of his clients for several years and now keeps a busy schedule as a freelance engineer and producer. His credits include recordings on classical labels Avie Records, Albany Records, Ondine, Naxos, Deutsche Grammophon, and EMI Virgin and sessions with Yo-Yo Ma, Rene Flemming and Paul McCartney. Barry regularly takes his extremely portable pair of Metric Halo ULN-8 interfaces to make recordings around New York City and the Tri-State area.
Read more...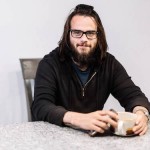 (PHOTO CREDIT: ©2017 Dan Thompson)
"ChannelStrip is my default EQ. It's always right there, and it's the first thing I think of... I can't live without it."
- Rick Carson, Mix Engineer, Record Producer
Make Believe Studios
OMAHA, NEBRASKA: "I have a goal: I want to help create a body of work in my lifetime, and I want at least one song to last in the public consciousness for 100 years!" So, says Rick Carson, engineer and visionary who got into recording at 14, realized it was his life's passion, and graduated from Full Sail as the school's youngest graduate. He was just 17 years old! After paying his dues in post-production and recording facilities in both Prague and Chicago, Carson did some disciplined market research and determined that the population of one million in greater Omaha, Nebraska had an abundance of bands and a dearth of studios to record them. Six years ago, he opened Make Believe Studios there. He has since poured "every cent, every second, every ounce of effort" in pursuit of his life's dream and ultimate goal. In that time, he has engineered Grammy-nominated projects and has a client list that includes Robert Searight, Terrace Martin, Problem, Danny Warsnop, and The Ready Set, among many others.
Read more...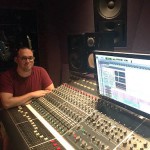 SAFETY HARBOR, FLORIDA: After less than a decade in the business, Chris Sclafani's results-oriented, artist-centered approach has made him an in-demand recording and mix engineer. His client list includes Selena Gomez, The Weeknd, Gwen Stefani, Sean Paul, and Passion Pit, among many others. More recently, he has worked with Ed Sheeran on Divide, Ariana Grande on Cashmere Cat's album 9, and Camila Cabello on the single, "Cryin' in the Club." After cutting great vocals, guitars, drums, and other instruments with Ed Sheeran (which earned an Album of the Year Grammy Award nomination in 2015 for X), Ed asked him to set up his home studio. Among many other things, Sclafani gave Sheeran a copy of Metric Halo's legendary ChannelStrip plug-in, which has been Sclafani's go-to for "literally everything involving vocals and most other things as well."
Read more...
NASHVILLE, TENNESSEE: With three Grammy Awards under his belt, David Garcia continues to challenge himself by stretching his songwriting and production craft into new genres. He won the ASCAP Christian Songwriter of the Year Award in 2015 and has worked extensively with Christian hip-hop act TobyMac, Christian pop act Britt Nicole, Christian indie rock act MercyMe, and Christian rapper NF. Garcia relocated from his native Florida to Nashville in 2009 and, in the spirit of that move, recently started working with country singer Kip Moore, who – despite the middle name "Christian" – is not an explicitly Christian act. Their single, "More Girls Like You," is charting as of this writing and was co-written, produced, recorded, and mixed by Garcia. As always, Garcia relied on Metric Halo's ChannelStrip plug-in to compress, limit, and equalize many tracks of the song.
Read more...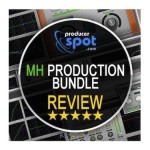 The Metric Halo Production Bundle is "simply a dream to use in a DAW, and a must-have for musicians, sound designers, and producers. So for musicians or anyone using a PC or Mac, if you want pro plugins in the class of Consoles and Mixers, it's a platinum choice for one of the best bundles available there on the market !"
- Grabule
producerspot.com
Read more...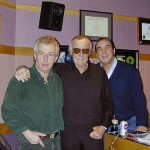 (From left to right) Robert Walsh, Chicago Music Library; Stan Lee, creator of X-Men, Agents of S.H.I.E.L.D., Captain America; and Stan Lee's producer, Tony Pastor, Marvel Animation.
HOLLYWOOD, CALIFORNIA – APRIL 2017: Chicago Music Library has over 60,000 tracks ready to license, and it services all the major television and movie studios, and ad agencies in Hollywood, New York, and (of course!) Chicago, and in over sixty countries worldwide. With over 10,000 European Classical Orchestral Master recordings, the Chicago Music Library also has one of the world's largest catalogs of classical music. It's team of composers and engineers is constantly producing new tracks, and they rely on Metric Halo ChannelStrip to give the tracks a professional polish using an intuitive interface that makes it easy to get the right sound quickly and intuitively.
Read more...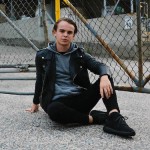 Prodigy Callum Baker got turned onto Metric Halo's flagship plug-in, ChannelStrip, while he was working recently in Los Angeles. "Everyone was using it, and on top of that, I heard that Serban Ghenea and Dr. Luke were both big fans of Metric Halo," he said. "Because I'm a huge fan of both of those guys, I grabbed the demo and fell in love. My favorite thing about the Metric Halo plug-ins is that they sound good, fast! When I'm producing, it's important that I stay in a creative space and not get stuck down in getting things sounding perfect too early on. With the Metric Halo plug-ins I'm able to get everything sounding fantastic super quick."
Read more...
«
Start
Prev
1
2
3
4
5
6
7
8
9
10
Next
End
»
Page 3 of 24