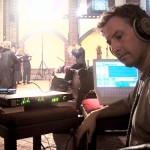 HAMBURG, GERMANY: The compact size of Metric Halo's eight-channel Mobile I/O 2882+DSP and two-channel ULN-2+DSP interfaces has been of significant benefit to Andrew Levine, a location recording engineer based in Hamburg, Germany, who frequently uses public transportation, or even a bicycle, to travel to local jobs. Levine, who is founder of blumlein records, is making use of Metric Halo's powerful new 2d upgrade to record, monitor and mix stereo and surround sound projects, several of which use his unique XYtri microphone setup.
Read more...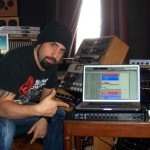 HOPEWELL JUNCTION, NEW YORK: Rob Caggiano is perhaps best known as the guitarist for heavy metal icon Anthrax, but those in the scene know he is responsible for some of the best-produced albums of the last decade, including We've Come For You All by Anthrax, Hunter by A Life Once Lost, Glitter In The Gutter by Jesse Malin (featuring Bruce Springsteen) and the Grammy-nominated Nymphetamine by Cradle of Filth, among many, many others. Most recently, Rob is busy producing and engineering the forthcoming debut album for his new band The Damned Things which features himself and Scott Ian of Anthrax together with members of Fall Out Boy and Every Time I Die. To perfect the guitar and bass sounds on the band's forthcoming album to be released on Island/Def Jam, Caggiano stepped up from his longtime favorite interface, a Metric Halo ULN-2, to the Metric Halo ULN-8, allowing him to input multiple mics on multiple cabinets per take. Apart from drums, everything on the yet-to-be-named album went through the ULN-8 to capture the "in your face" sound that the producer is noted for.
Read more...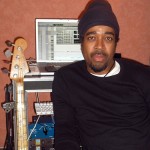 HOPEWELL JUNCTION, NEW YORK: Respected musician, producer, and engineer, Carl James is equally comfortable in the diverse realms of Rock, Jazz, Pop, R&B, Reggae and World music, a fact reflected in his infectious, joyful manner. A native of Jamaica, Carl's confidence is well earned. He cut his teeth in the mid 1980s playing bass with Lenny White, legendary drummer with Return to Forever, then rock band, Living Colour, before playing with what seems like every big name across the jazz to pop spectrum. This included the likes of Steve Windwood, Mariah Carey, Wayne Shorter and many more. As his aptitude for harnessing pro audio gear in the service of an unerring musical intuition became obvious to those who worked with him, Carl expanded his contributions to include engineering and then production. With a perpetually over-booked calendar, Carl has come to rely on the efficient workflow of a laptop-based Pro Tools LE system and his favorite plug-in – a Metric Halo ChannelStrip.
Read more...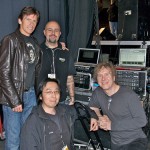 BOSTON, MASSACHUSETTS: Whether Hiroaki Honshuku is performing as a musician or working as an audio engineer, Metric Halo hardware and software is invariably involved. Recently, Honshuku's A-NO-NE Studio Services was hired to record the music performed during "Comics Come Home XIII," a charity event hosted by Denis Leary at Boston University's Agganis Arena, for which he used a multi-track remote recording rig comprised of two Metric Halo Mobile I/O 2882+DSP and two ULN-2+DSP units, plus an Apple MacBook Pro.
Read more...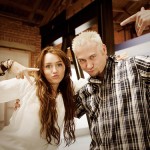 HOPEWELL JUNCTION, NEW YORK: DeeTown Entertainment is the brainchild of prolific contemporary composer and musician Ali Dee Theodore. In less than a decade, DeeTown has risen to prominence in the American film industry, turning out a seemingly limitless number of chart-topping scores and songs for a huge number of films and musicians, including Hannah Montana: The Movie, The Jonas Brothers, Hot Tub Time Machine, Transformers, Mary J Blige, Daredevil, Mr. & Mrs. Smith, Ghost Rider, and Iron Man, among many, many others. The rise of Ali Dee and his crack team of writers, producers, musicians, and engineers has been compared to the heyday of Tin Pan Alley, when Irving Berlin, George Gershwin, Cole Porter, and their contemporaries ruled New York City. Indeed, DeeTown's recent move to an upgraded facility in Manhattan makes the analogy all the more apt. From the beginning, Ali Dee and the engineers and producers of DeeTown have relied heavily on the superlative frequency and dynamics processing of Metric Halo's ChannelStrip plug-in, and Ali Dee asserts that every DeeTown product, without exception, bears its sonic signature.
Read more...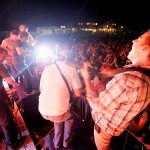 HOPEWELL JUNCTION, NEW YORK: There is much to admire in a band that forms for the love of music and then, because of the members' talent, inspiration, and joyful willingness to play tour after tireless tour, achieves well-deserved success. A bluegrass band that elegantly draws inspiration from tradition, The Infamous Stringdusters recently earned a Grammy nomination for Best Country Instrumental Performance for "Magic #9," the fourth track on the band's third album, Things That Fly. The Infamous Stringdusters are rather famous – despite the appellation – on the bluegrass-friendly stages of the nation for both their quality (see above) and their quantity (the band plays approximately 150 shows a year!). FOH engineer Drew Becker was fresh off a degree from Full Sail and still rather green when he went to work full-time for the band three years ago. Since then he has logged over 500 shows, some with audiences in excess of 40,000, and has quickly established himself as a prodigious talent behind the board. Metric Halo's SpectraFoo sound analysis software played a critical role in his rapid ascension.
Read more...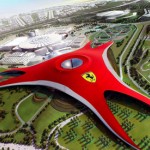 LONDON, ENGLAND: Recently opened, Ferrari World, the world's largest theme park and the first and only Ferrari theme park in the world is located in Abu Dhabi, United Arab Emirates featuring a multiplex of driving-related attractions, thrill rides, and, of course, a racetrack. The structure is massive, covering fifty acres with a unique red dome roof adorned by a massive Ferrari logo. In a distinctive break from the well-trodden theme park music motif, celebrated composer Julian Scott was commissioned to write and record themes for the "factory" section of the new park. His cues are replayed in surround sound and synchronized to both the ride dynamics and the high-definition video replays. Scott recorded the pieces at famed Abbey Road studios, relying on Metric Halo ULN-8 and 2882 +DSP converters to capture the enormously expensive session in stunning quality, without hiccup.
Read more...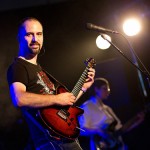 MANAGE, BELGIUM: Geert Bevin has been coding computers and making music since he was twelve years old. Now a few decades later, Bevin splits his time between Eigenlabs, where he is a senior developer on the EigenD system in support of the revolutionary Eigenharp electronic instrument, and his indie-pop-rock band Flytecase. Both passions fully utilize his technical expertise and his cultured aesthetic sensibilities. Bevin relies on Metric Halo FireWire interfaces – one 2882, one ULN-2, and one ULN-8 – as well as Metric Halo's DSP capabilities to deliver exacting recordings in the studio and sophisticated setups on stage.
Read more...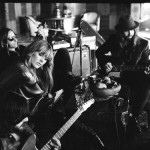 HOPEWELL JUNCTION, NEW YORK: Grace Potter and the Nocturnals' self-titled album – their third studio release – debuted at #19 on the US Billboard Top 200 upon its release and set the band off on a string of sold-out shows and television appearances that show no sign of slowing, including recent performances on The Late Show with David Letterman, Conan and Emmy-nominated music show Live from The Artists Den. The band's brand of rock gives listeners plenty to hook into, and the live show amplifies that effect by the fiery charisma of lead singer Potter at her vintage Hammond B3 and her band of talented players. The group is currently packing theaters across the U.S., and it is easy to extrapolate that the next go-around will require much larger venues. Front-of-house engineer Sam Leonard, who frequently also handles every other aspect of the band's technical underbelly with the help of only one tech, has recently begun to record every Grace Potter and the Nocturnals show using either eight channels or twenty-four channels of Metric Halo's acclaimed 2882 mic preamp/converter.
Read more...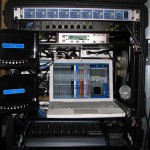 NEW YORK, NEW YORK: For nearly a decade, Graham Gardner has been dutifully recording the on-location and on-set sound for both reality-based and scripted television shows in and around New York City. The business is fast-paced, and success is frequently measured not by the captured nuance of a subtle reverb tail, but by the reliable capture of intelligible spoken word. In reality-based work especially, there is no tolerance for a sound mixer's request to "do that again!" But unlike many of his colleagues, Gardner has not abandoned the simple satisfaction of a sound well-recorded and, somewhat surprisingly, his clients are noticing the difference. Apart from technique, Gardner delivers a superior product with Metric Halo's FireWire ULN-8 audio interface, which provides studio-grade mic preamps and AD/DA conversion, along with the DSP muscle to process and mix with efficiency and sonority.
Read more...
«
Start
Prev
1
2
3
4
5
6
7
8
9
10
Next
End
»
Page 3 of 26