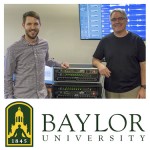 (Dr. Ben Johansen with his colleague, Dr. Scott McAllister, Professor of Composition, with Alinea's two LIO-8/8 interfaces)
WACO, TEXAS – FEBRUARY 2018: Cultivate Informed Creative Research: these four words summarize the mission of the exploratory music composition lab at Baylor University. "Our students bring so much to their composition classes – they've been studying on their instruments for years, they've taken intensive music history, theory, and musicianship courses – and they need an inviting space to freely experiment with all of that background knowledge in new and exciting, creative ways," explained Dr. Ben Johansen, lecturer in "Composition and Computer Music" at Baylor's School of Music. Together with his colleagues in the department, Johansen has been building out that creative space – dubbed "Alinea" – with tools that are not only beautiful sounding, but also unfailingly robust to near-constant usage.
When Johansen joined the faculty last August, he set to shoring up a few of Alinea's weak links. The larger eight-channel studio needed a reliable eight-channel interface, and Johansen did a lot of research to find candidate interfaces that were rock solid stable no matter what the situation. "That all-important criteria collapsed the universe of possibilities to just two brands," he said. "Add to that the additional criteria that the interface would have to work easily and reliably with pretty much every variety of audio and composition software in existence – Logic, Pro Tools, Izotope, Max, Ableton Live, Pure Data, Dorico, SuperCollider and on and on – and it had to sound pristine. Well, that got us down to just one – Metric Halo."
Read more...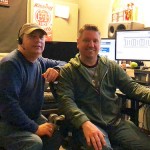 (From left to right – Entertainment Tonight Producer Kevin Gershan and Editor/Mixer Dan Schanks at work in the edit bay at CBS Studio Center in Studio City, CA)
STUDIO CITY, CALIFORNIA – JANUARY 2018: Kevin Gershan has been a producer and director for CBS Television Distribution since 1979. "I have worked closely with audio," he said, "from my days in radio to my move into television. I started my career working with all the classic analog gear and techniques, and I transitioned through all of the digital formats – right up to the latest digital technologies today." After Entertainment Tonight's syndicated radio feature switched over to using Media Composer in an Avid video editing system, Gershan and his team came to rely on Metric Halo plug-ins for their sonic integrity and rock-solid stability.
Read more...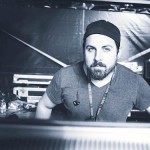 (PHOTO CREDIT: ©2018 Tim Tronckoe)
SAFETY HARBOR, FLORIDA: "Whether it's a day off on the road or at home in Michigan, I'm always sitting in front of Pro Tools, and Metric Halo plug-ins are becoming a bigger and bigger part of that experience." So, says Ashton Parsons, a mostly-touring audio engineer who also runs the Michigan-based project studio Sentimental Dreams. He most recently served as the production manager, monitor engineer, & post-production re-mixer for the chart-topping girl group Fifth Harmony. In his latter role, he has re-mixed live performances for Disney TV, a Disney Christmas special, and Showtime at the Apollo on Fox. Proof that he's happy to jump genres, Parsons also remixed Disturbed's Live at Red Rocks and did several live videos from the same tour. He also recently completed Anthrax live in Japan for the European release of "For All Kings." Black Label Society and Papa Roach have also relied on Parsons' knack for delivering mixes that magically convey the intensity of the live experience for the small screen.
Read more...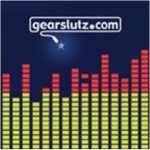 "The best unit by far for the moment in any price is uln8. Its a mystery of engineering how they put so many stuff inside with so good sounding quality."
- "ilias"
Gearslutz User Reviewer
January 8, 2018
Metric Halo wishes to thank "ilias" for including the ULN-8, ULN-2 and 2882 converters/preamps/interfaces in the Prism Sound Lyra 2 Gearslutz User Review!
Please CLICK HERE to read the full review.
Read more...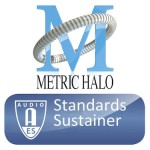 The Audio Engineering Society (AES) is "the leading professional association worldwide for professionals and students involved in the audio industry. The AES serves its members, the industry and the public by stimulating and facilitating advances in the constantly changing field of audio. It encourages and disseminates new developments through annual technical meetings and exhibitions of pro audio equipment, and through the Journal of the Audio Engineering Society, the professional archival publication of the audio industry." (www.aes.org)
Metric Halo, industry leaders and innovators of world-class professional audio products since 1997, is proud to support the Audio Engineering Society's important work as a founding Standards Sustainer. Read more about the AES Standards Sustainer Program via www.aes.org/blog. Or, JOIN AES today!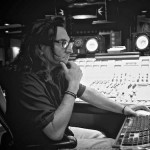 LOS ANGELES, CALIFORNIA: Bill Malina has been making big decisions on heavyweight recordings for a long time now. His endless list of credits cuts across genres and includes classics like Santana and Ringo Starr; rappers like Pitbull and Flo Rida; and plenty of deep pop, from the Backstreet Boys and Justin Bieber to Anastacia and Katy Perry. He routinely works with Robin Thicke (and the acts Thicke works with) and is perhaps best known for his regular engagements with pop icon Lady Gaga. After his previous go-to channel strip plug-in went fully native, crashing his workflow, Malina sought out a replacement and came up with something that not only runs on his Pro Tools HDX card, but that sounds better and uses miniscule DSP resources: Metric Halo ChannelStrip.
Read more...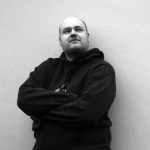 UNITED KINGDOM: UK-based Gareth Hester wears a lot of hats. For starters, he's a dance music musician and producer under the monikers War Machine and Covert Garden, which are signed to two of the biggest labels in the genre (Hospital Records' Med School and Technique Recordings). He's also a DJ, with a lengthy stint on KISS-FM. His DJ-ing and music have been featured in DJMag, MixMag, I-DJ, Drum & Bass Arena, and more. In addition, Hester is a forward-thinking sound designer with Zero-G, Sunderland Audio, and the VR gaming company Beloudest. Through all of it, Hester relies on Metric Halo Production Bundle plug-ins to get great work done quickly!
Read more...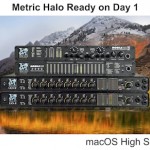 SAFETY HARBOR, FLORIDA – SEPTEMBER 25, 2017: BJ Buchalter, VP Research and Development, announces Metric Halo's macOS 10.13 High Sierra compatibility to the MIO Users Group. Please see BJ's e-mail below, for details:
Read more...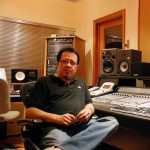 MIAMI, FLORIDA: With a career that now spans over four decades, Oscar D'León is a fearless bandleader and one of the greatest names in tropical music. Salsa fans worship him like a god, and everyone has heard his music (whether they know it or not!). Approximately a decade his junior, Rodolfo Castillo is a multiple Grammy Award-winning producer, engineer, songwriter, and publisher in the Latin music world who has ably navigated the fully-analog workflows of his early days to the fully-digital workflows of today. The two greats joined forces to record Fuzionando, which earned Castillo another Grammy Award for Best Engineered Album. Castillo delivered the analog soul expected for the album in a fully-digital production by using Metric Halo's venerable ChannelStrip plug-in.
Read more...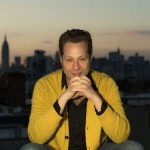 (PHOTO CREDIT: ©2017 David Creswell)
NEW YORK, NEW YORK: Marlan Barry is an accomplished audio engineer and producer who focuses on orchestral, chamber, operatic and acoustic recording. He trained with former Telarc trailblazers Jack Renner, Thomas Knab and Michael Bishop and went on to become a New York based freelance engineer and producer. For fifteen years he engineered and produced recordings for The Houston Grand Opera. He left New York briefly to become the chief engineer and producer for the Houston Symphony when Christoph Eschenbach was finishing his ten-year stint as the orchestra's music director. He also and served as head recording engineer for the local NPR affiliate, KUHF. After two years in Houston, he relocated back to New York City but kept the opera as one of his clients for several years and now keeps a busy schedule as a freelance engineer and producer. His credits include recordings on classical labels Avie Records, Albany Records, Ondine, Naxos, Deutsche Grammophon, and EMI Virgin and sessions with Yo-Yo Ma, Rene Flemming and Paul McCartney. Barry regularly takes his extremely portable pair of Metric Halo ULN-8 interfaces to make recordings around New York City and the Tri-State area.
Read more...
«
Start
Prev
1
2
3
4
5
6
7
8
9
10
Next
End
»
Page 2 of 24